Progress in information storage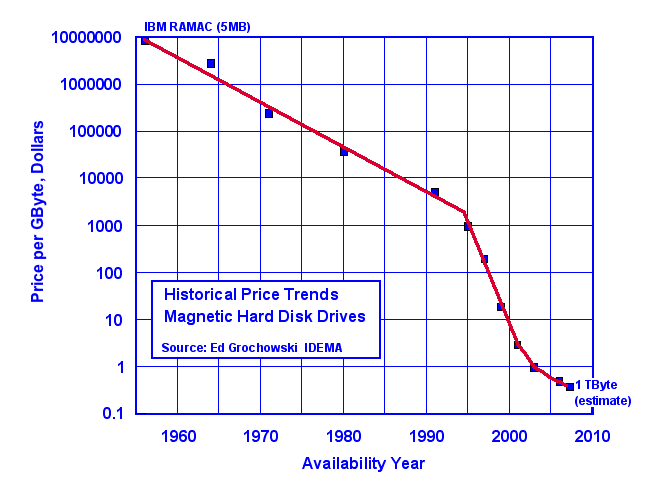 +Hard drive progress has been slowing since the last major advance in the 2000s (tunnel magnetoresistance read heads, which are now mature). Heat-assisted magnetic recording (HAMR) is the most likely next evolutionary step for hard drives.
+The main problem with increasing bit density on hard drives is as you make the bits smaller, they become less stable. You can increase their stability by increasing their magnetic coercivity, but the tradeoff is that the bits become harder to write. Heat-assisted magnetic recording is a technology that makes bits easier to write, thereby making it possible to use smaller (higher coercivity) bits.
+The idea is not new, and it even enjoyed commercial realization in the 1980s in magneto-optic discs.
+Seagate is one of the leaders in HAMR technology, but their release dates keep getting pushed back. Right now the latest word is that they'll be commercially available in 2017.
+I've heard the main problem with HAMR now is the thermal stability of the plasmonic antenna. Because the magnetic bits are much smaller than the wavelength of laser light, conventional optics cannot be used. Instead, the head has a vertical waveguide with a plasmonic antenna at the end, which concentrates the light at the bit being written. Unfortunately, a side-effect of heating the magnetic bits is that the antenna also gets hot, and they can fail after just ~100 writes. Engineers are working to solve this and I'm confident they will, but right now this is the main problem with HAMR and why it's taken so long to get to market, at least from what I've heard.
More analysis coming to theaters near you.